An instant icon in the design world, the Abbey Secretary continues to thrill and inspire to this day. A modern interpretation of a classic writing secretary, the Abbey can be used as a writing desk, a luxe home office, a bar, or all of the above. The Abbey is designed to allow you to  personalize the mood by stacking art, vases, books or whatever you choose on it's sturdy, smooth top and to configure the deep interior compartments to your liking.
The Abbey Secretary features a strong, architecturally-inspired top pediment and formidable pedestal feet, beautifully hand-crafted architectural hammered drawer pulls and heavy edge guards. There are six (6) working drawers of varying depths and the interior can be custom-configured for glass bar shelving and power/wire management.
Maple Veneer, Brass or Nickel Hardware. Single Secretary Version Also Available 204BAM-23.
 October Market As Shown: Exterior - Super White (Satin) and Quietude (Satin)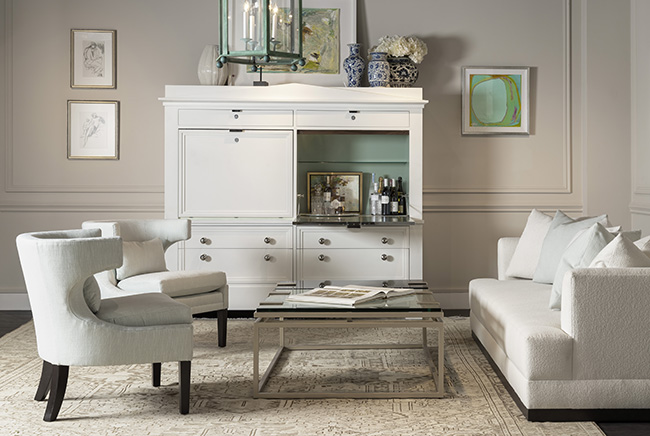 Please Contact Customer Care for Additional Options. Handcrafted in the USA.